Napkins, Welcome to the Fold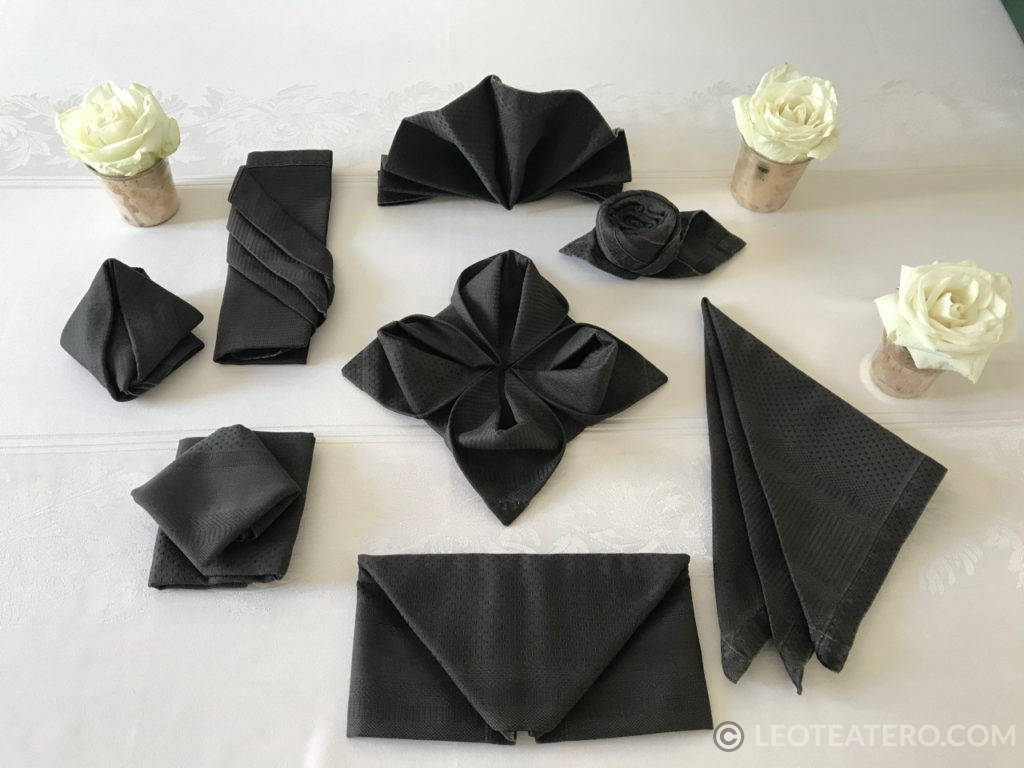 I've spent years decorating and designing beautiful tables for dinners not just in our home, but also for grand events and galas. A properly folded napkin can be one of the most important things on a table and a harbinger of great things to come! Aside from the obvious reasons folded napkins help finish the look of your table, hold utensils, or cards and notes. Today, I am going to share with you a few napkin folds to charm any table and take your dinner game to the next level.
The art of napkin folding is something fun and useful for every day. I find the use of cloth napkins excellent in this era of counting one's carbon footprint. We reuse our cloth napkins for a several days. After each meal, I quickly refold them to identify the owner of the napkin and place them in a bowl, for the next meal.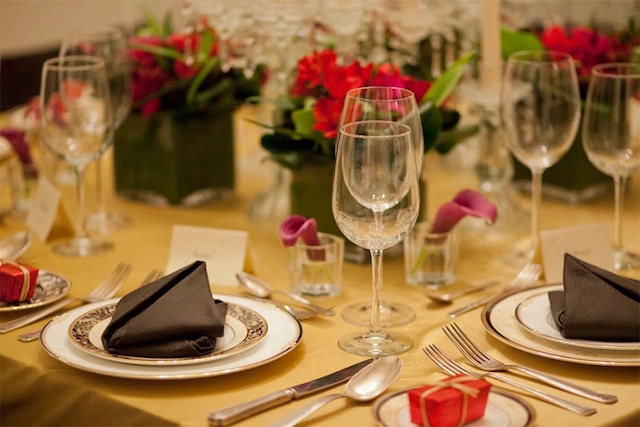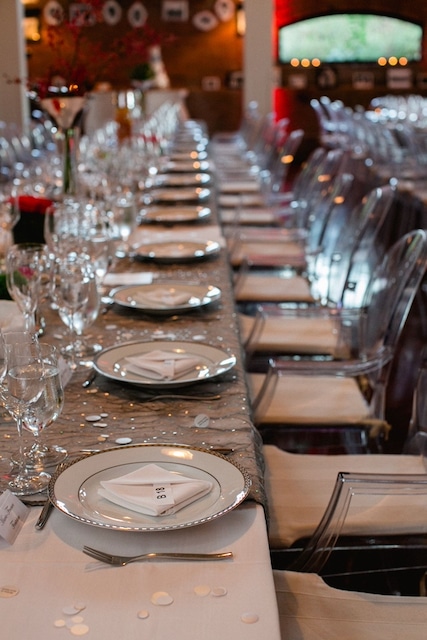 But let's delve into the history of the napkin first. Did you know that the first napkin was edible? That's correct, the Spartans in Ancient Greece ate everything by hand. That led to the common use of a soft dough to clean off the fingers, called an apomagdalie. The Romans also introduced two kinds of cloth for napkin-related purposes—the sudarium, to wipe the sweat from the face, and the mappa, a large cloth like a sheet for eating while in the reclining position. Guests at dinner parties brought their own napkins. The host never provided such item. They brought colorfully embroidered linens and silks to the dinner, which also doubled as a doggy bag for small leftovers.
During the Middle Ages there weren't really napkins at all. People wiped their hands and faces with their shirts or cuffs, whatever else was around. During the Renaissance, everyone used the tablecloth to wipe their hands. Eventually, the cloth napkin made the way from the tablecloth to a single small cloth, one for everyone.
England, in the 16th century, used fine linen fabric folded in the shape of a diamond, called a diaper. The size would depend on the special event.
In 1729 the gentlemen in the French Court would tie their cloth napkins around their necks to protect their collars. The highest ranked person's napkin had their initials embroidered on the cloth and placed to the left of their plate. This person would open their napkin first, allowing the others to do the same.
In the 18th century, the fork became widely accepted and reduced the napkin in size to 30' x 36'. Today we use the cloth napkin folded in large sizes for multi course dining, medium for smaller menus and smallest for afternoon tea and drinks. Your typical modern-day napkin is 20 inches by 20 inches. In France you can find varying sizes up to 23 inches or 60cm.
The fabric and texture of the napkin is very important. I love all cotton, flax or linen napkins, but others textiles such as silks and faux silks can also be equally gorgeous. Do stay clear of cheaply made napkins or ones will odd fabric. Your guests' lips will know. After all, everyone appreciate a gentle touch. Fabric is also the key to a good fold. You need something that will hold a crease. Natural fibers are best and a great thing to help you make creases is an iron.
My Favourite Napkin Folds: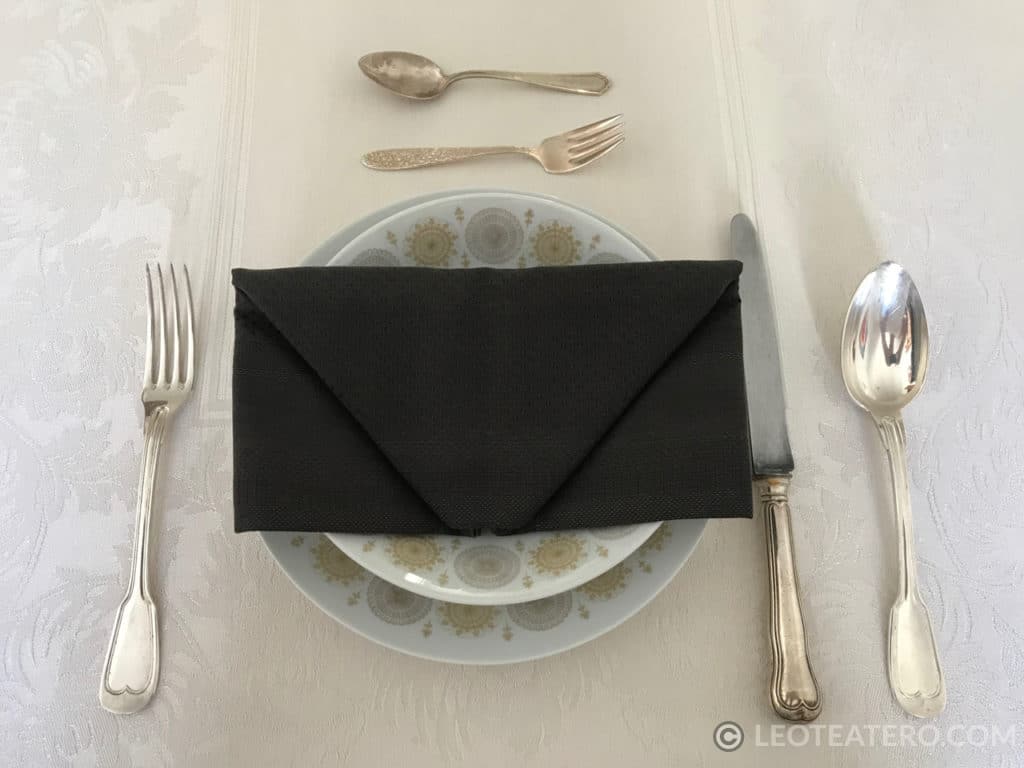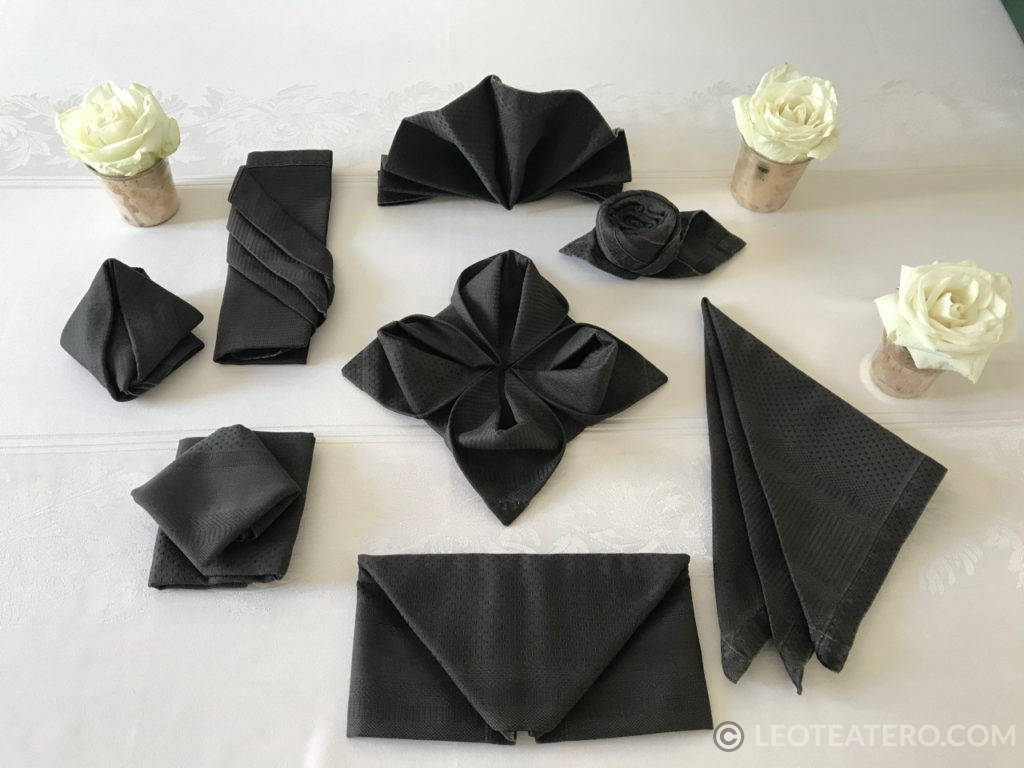 Remember, you don't have to all have the same napkin fold. Try mixing some of the folds together; it helps with creating depth on the table. Below I mixed the Christmas Flower with the Rose and it looks amazing!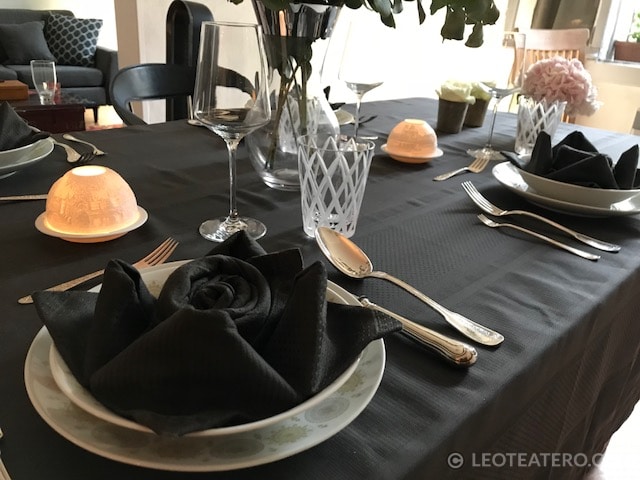 For more ideas, check out my folded napkin gallery on Pinterest. You will also find many of the instructions on how to make some of these folds.
Cleaning Napkins
One objection to using cloth napkins that invariably arises is the problem of food or lipstick stains. Probably the best suggestion when it comes to tough food stains like barbecue sauce or wine is to avoid using your best white cloth napkins when you are serving foods or beverages that stain. Use dark coloured paper or cloth napkins. One of my most treasured possessions are these dark charcoal coloured napkins and matching tablecloth, given to me by my late belles-mere (mother-in-law).
But, if it's too late and your best table linens are already stained and soiled, these should help:
Glycerin removes lipstick stains.
For wine stains, wet them with water as soon as possible, then mound salt on both sides of the stain.
White wine poured on a red wine stain sometimes will remove it.
Wash all napkins as soon as possible after they are used.
Treat the stains with a pre-wash stain remover (like K2R), and then wash promptly.
Wash in warm or hot water using powdered oxygen bleach and an enzyme-boosted detergent.
It may help to soak the napkins overnight in a mix of just enough water to cover them, one measure of laundry detergent. Wash the next morning.
After washing, dry the napkins on a clothesline to let the sun help in bleaching away stains.
When all else fails, soak white napkins in strong bleach solution.
At some point, something like a strong grease stain will fail to yield to any kind of attack. That's the time to reflect upon the verity that the world and all therein is short-lived, and every napkin has to meet its ultimate fate becoming a cleaning rag. Life is like that.
Napkin Notes
Unfold your napkin, just above your lap, underneath the table. Never unfold your napkin above the table.
Never blot lipstick on a cloth napkin or use it as a handkerchief, use a tissue please.
Never place your cloth or paper napkin on your plate after eating.
Never place your napkin back on the table while others are still eating. Leave it in your lap.
Place your napkin on the seat of your chair when you leave the table during a meal.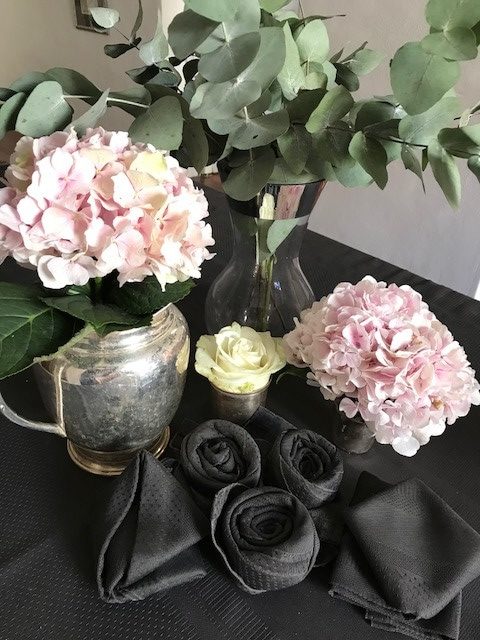 The importance of napkins cannot be understated. When your guests take their seats, it is one of the first things they will see, the first thing they touch and the first and last item they use. So it matters, a lot. So get folding your next dinner party and see what happens !
Vivre ma France,