Welcome, dear readers! Allow me to introduce myself, my name is Leo, a seasoned event planner by trade and a cultural aficionado who loves uncovering Europe's rich history and finest customs.
For me, a celebration is a way of life. I want every occasion to be the most joyous affair to recognize a special moment in time. Having planned events and weddings for over 30 years, it became apparent to me that it's seldom all about one day; often the event host is saddled with lots of decisions or tricky scenarios that may fall outside the typical relationship with an event professional.
And I wanted to change that.
After having befriended and worked with hundreds of brides and grooms, I wanted to provide a platform to empower brides and grooms with the knowledge and know-how around all things weddings and events. In my time, the most successful events are those in which the hosts feel confident in all the elements that make up their special day.
This space is designed with you in mind to give honest and useful event-planning advice. Think of it like having a discussion with a close friend that tells it like it is -who also happens to be a kind and compassionate event professional!   Together we're going to walk through buying everything, and I mean everything, for your wedding day outfit.  We're going to navigate the world of champagne, bridal gowns, tuxedos, table settings and chat through the do's and don'ts of bridal showers.
You may occasionally see affiliate links included within my posts, allowing me to make a small commission from any sales coming from the blog. Please remember that I only post about vendors I trust and use myself - all opinions, reviews and recommendations are authentically my own.
We're going to talk through all the good, the bad and the ugly aspects of wedding planning that help you walk down that aisle in style, grace and confidence!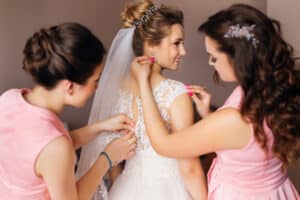 Planning a wedding can be an exciting yet overwhelming process. Luckily, bridesmaids and bridesmen are there to lend a helping hand. From choosing the perfect dress to managing logistics, bridesmaids can play a vital role in making the wedding planning journey a memorable one. In this blog, we will explore 12 essential tasks a bride…
Lire plus
Receive the news in your emailbox
If you like this articles , you can subscribe to our weekly newsletter.