Hors d'oeuvres et Canapés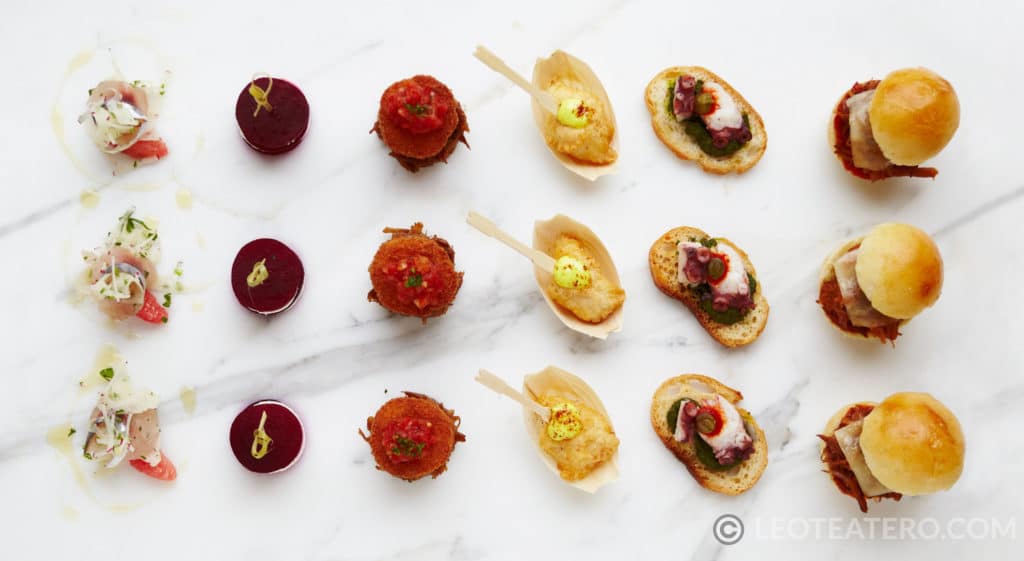 Serve a platter of hors d'oeuvres or canapés and you will find people make a mad dash to get their hands on one. These tiny moments of happiness are enough to tempt any appetite. They are small easy to digest little chunks of life and my favourite thing to serve especially in my home.
Hors d'oeuvres (pronounced "or derve") and canapés ("can aah pay") have been served in nearly all cultures. Historians and anthropologists believe this practice evolved quite naturally after we set aside our hunter-gatherer lifestyle and became sedentary. Perhaps an instinctive evolution of our grazing days, when small bites of fruit and nuts indeed set the tone for the long-awaited real meal. The related word canapés are savory little appetizers made with bread, cracker or pastry base, so they can be picked up with the fingers and eaten in one or two bites. They were originally served as a small toasted bread with a savoury topping before a meal. Canapés are a type of hors d'oeuvre.
The Ancient Romans and Greeks are depicted lounging with trays of fresh fruit, wine, olives and cheese. These included fish and seasoned vegetables also. Their orgy-feasting style surely inspired our modern-day hors d'oeuvres. Later in France, during the Renaissance (14th to 17th century), physicians recommended eating small morsels of salty meats prior to a meal in order to prepare the digestive system for the main course and to ensure proper digestion. At the end of the 17th century, smaller dishes began to be served on the dining tables that were "outside the main work" of the main dishes. These were known as hors d'oeuvre, which actually was an architectural term referring to an "'outbuilding not incorporated into the architect's main design".
In France, the first mention of hors d'oeuvres was by François Massialot in 1691, in his book: Le cuisinier roial et bourgeois (The Royal and Bourgeois Cook) and explained as "certain dishes served in addition to those one might expect in the normal composition of the feast". The idea of hors d'oeuvres was also depicted in a famous painting by Polish painter, Pieter Claesz, in 1623.
Of course, our style of formal dining changed drastically in the 19th century, becoming successive courses served one after the other over a period of time. Some traditional hors d'oeuvres would remain on the table throughout the meal. These included olives, nuts, celery and salted radishes. The changing, contemporary hors d'oeuvres, sometimes called "dainty dishes" became more complicated in preparation. Pastries, with meat and cream sauces among other elaborate items, had become a course served after the soup.
History aside, the reality is that the foods we serve prior to the main course are designed to open your appetite and set the tone for the meal. They occupy the mind and belly while dining guests wait for the centerpiece of the main course that will satisfy their hunger.
Here is a list of some of my favourite hors d'oeuvres and canapés (for the recipes just search the net, or try using Epicurious, Martha Stewart or Cooks Illustrated). Most are easy to make, while a few do take some time. Use this as a jumping off point to inspire to make your own hors d'oeuvres.
Caviar and Crème Fraîche Tartlets
Figs with Bacon and Chiles
Lobster Toasts with Avocado
Savory Mushroom and Parmesan Palmiers
Country Pâté Toasts with Pickled Grapes
Warmed Spicy Olives
Spanish-Style Tomato Toasts with Garlic and Olive Oil
Fresh Oysters with Red Wine Vinaigrette
Escargot with Garlic-Parsley Butter
Smoked Salmon Rillettes
Spinach Puffs
Crustless Mini Quiches
Crab cakes with Lime Chive Mayonnaise
Coconut Shrimp
Mini Shepherds Pie
Mini Beef Wellingtons
Pigs in a blanket with Herbed Mustard Dipping Sauce
Curry Chicken Samosas
Goats cheese with Oregano and Olive Oil on Toast
Mini Empanadas
Accras de morue portugais or Fish Poppers
Grape Focaccia
Smoked Trout Blinis with Crème Fraîche and Dill
Ham and Cheddar Croquettes
Oysters DuPont
Roasted Garlic and Sweet Potato Crostini
Zucchini Fritters
For the modern host or event planner figuring out what to serve and how much takes some trial and error before you really know the right number of pieces per person for different events. Luckily, given my experience, I have done the work for you and have come up with best estimates, by event type and time:
2-4 pieces per person, 30-60 minutes before dinner, cocktail hour
5-6 pieces per person, 1.5-2 hour event, preceding dinner time
8-10 pieces per person, 2-4 hours event, heavy hors d'oeuvres
12-15 pieces per person 4+ hour event, dinner replacement (sometimes called a cocktail dînatoire)
In the home, I love serving hors d'oeuvres for three main reasons. First, it gives my guests something to nibble on while I am still cooking the main meal. Secondly, it is usually easy to make and finally, it always makes people hungry and ready for more food. Exactly what I want when they sit at my table.
Here are some simple ideas of things to always have on hand to make instant hors d'oeuvre at home:
Baguettes are great for tartines, which are small versions of open-faced sandwiches. Cut the baguette in half at the middle and freeze in plastic. Will thaw in 20 minutes on the counter and 5 minutes in a hot oven.
Cherry tomatoes, sliced sausages with cubed cheese & herbs skewered with bamboo spears
Small crackers, sliced meat and strong mustard
Sliced cheeses
eggs to make devilled eggs
Pickles, Olives and nuts (my favourite is Thyme roasted salted cashews)
Smoked salmon (keep frozen, thaws in under 30 minutes on the counter removed from the packaging)
Vegetable and Yoghurt to make Crudités with Tzatziki
Can of chickpeas, a lemon and some tahini paste, to make Hummus
Canned cooked vegetables for veggie puree shots.
Two of my favourite hors d'oeuvres are Gougères and Rillettes de Maquereaux. Gougères are a soft egg pastry, which looks like a cream puff but has a cheese taste to it, like a profiterole. Rillettes de Macquereaux is a fresh fish spread made from, you guessed it, mackerel. I make these two things with quite regularity and store them in the freezer and refrigerator respectively. These are actual recipes given to me by my belle-mère (mother-in-law), done in both metric and Imperial. They are both fantastic.
Gougères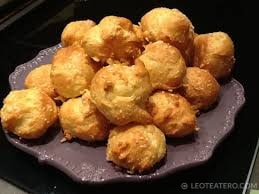 235ml / 1 cup of water
75g / ⅓ cup of unsalted butter
3.5 g / ⅔ tsp. of salt
125g / 1 cup of flour
3 large eggs (chilled)
150g / 1 cup grated Gruyère cheese
50 g / ⅓ cup of grated Parmesan
5g : 1 tsp. of fresh cracked pepper
Preheat the oven to 400°F/205°C. Line 2 baking sheets with parchment paper.
Bring the water, butter and salt to a simmer in a heavy medium saucepan over medium heat, whisking until the butter melts. Add the flour; stirring rapidly with a wooden spoon until the flour absorbs all the liquid and forms a ball, pulling away from the sides of the pan for 1 to 2 minutes. Dough should no longer be sticky. Remove pan from the heat and let dough cool for 2 to 3 minutes. Using an electronic mixer, beat in eggs one at a time. Stir in cheese and pepper. Drop rounded teaspoons of dough onto baking sheets. They should be small and round. Press down any peaks in the dough using damp fingers.
Bake gougères until golden brown, about 25 to 30 minutes. Be sure to reverse the pans halfway through baking to ensure even cooking. The gougères should be slightly moist and eggy on the inside.
Transfer to racks and cool for a few minutes, serve warm. Alternatively, this can be done 3 hours ahead and reheated in a 350°F oven. They can also be easily frozen after baking and cooling and reheated too.
The printable recipe is here: Gougères
Rillettes de Maquereaux (Mackerel rillettes)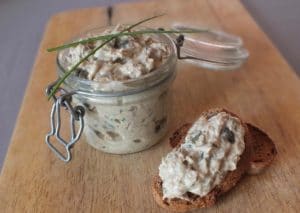 6 smoked mackerel fillets, bones and skin removed
6 fresh mackerel fillets, bones and skin removed
50 g (3.5 tbsp.) of butter, softened
2 garlic cloves, sliced thinly
150ml (⅔ of a cup) of yoghurt (Greek or Sheep)
½ of the juice of a lime
20g (2 tsp.) horseradish cream
1 pinch of paprika
25g (1 cup) of your favourite fresh herbs (chives, parsley etc.)
Salt
Pepper
Preheat oven to 400°F/205°C. Season the fresh mackerel fillets with salt and pepper and wrap in foil along with 20g of the butter and the slices of garlic)
Cool the mackerel parcels in the oven for about 8 to 10 minutes. Remove from oven and leave to cool in the foil for 20 minutes.
Place the rest of the soft butter in a mixing bowl and beat until light. Chop the smoked and fresh fish into small pieces and add to the bowl. Use a fork to break apart the fish until it is evenly mixed into fine pieces.
Add the yoghurt, lime juice, horseradish cream, paprika and the rest of the fish cooking juices with the garlic into the bowl and mix well. Add the chopped fresh herbs and mix again. If you use different fish you can also change the herbs and spices to your liking.
Serve with some mixed fresh leaves of your favourite lettuce on toasts or baguettes.
The printable recipe is here: Rillettes de Maquereaux
Rethink and reboot hors d'oeuvres as you plan your next cocktail, dinner or brunch. Imagine doing a cocktail dînatoire for 12 instead of the normal sit down dinner for 6 or 8 in your home. Let people lounge and relax where they please. Planned correctly it can be much easier than hosting a sit down dinner.
Imagine doing a wedding like this. I attended a wonderful Italian wedding where everything was hors d'oeuvres and food stations. There were a few tables for some to sit down, higher stools and bar tables, but mostly people walked around and socialised while they ate. The key here is to do it after an early evening ceremony, and don't let the cocktail dînatoire last longer than 3 hours. You can even have cakes cut into hors d'oeuvre sized-portions. Its also budget friendlier than a full reception, the a meal and then party.
I hope you liked my look at hors d'oeuvres and canapés. Now go forth and create tiny bites of tasty fabulousness!
Vivre ma France et bon appétite!