Wine 1.0 A Beginners Lesson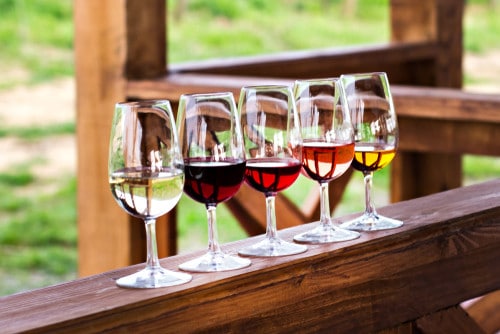 I took to wine later in life (pun intended) but up until that time, it just seemed like strong grape juice to me. It was after my days in politics, once I started working as an event planner that my mind really opened up to one of the oldest and greatest drinks on the planet. The symbol of le raffinement de la vie (the fine life) associated with history, tradition, local quality products, gastronomy and dignified social settings.
Originating in the regions of Georgia, Turkey and Iran and running as Far East as China, wine has been around for well over 8000 years. It was fiercely celebrated in ancient Greece and Rome and has been closely intertwined with religion too. Wine was considered the privilege of the upper classes. Dionysus, the Greek god of wine, represented not only the intoxicating power of wine, but also its social and beneficial influences. He was viewed as the promoter of civilization, a lawgiver, and lover of peace — as well as the patron deity of agriculture and the theatre. Indeed, according to ancient Greek historian Thucydides, "the peoples of the Mediterranean began to emerge from barbarism when they learnt to cultivate the olive and the vine".
One thing is for sure: wine has influenced many things and has evolved in our life, culture and diet. European appreciation of wine even endured throughout the Dark Ages. Partly because drinking water was still unreliable, wine was the preferred alternative to accompany meals, and a safer bet for your body.
Wine conjures many thoughts for many different people, but first and foremost it is actually an agricultural product. One that is tied to the elements, time of harvest and location (or the Appellation as it is officially known). There are four major factors that come into play when making wine: Mother Nature, terroir (the French term referring to all the environmental elements that impact wine growing: influence of climate, soil, topography), the vinification, and aging.
I never really much of the background in making wine. I knew of course it was a crop of grapes fermented into a light alcohol based on where it is grown. But what I did not know was most of the vines in Europe were massively destroyed by a parasite called Phylloxera aphid in the late 19th century. This tiny insect attacked the roots of the European varieties and destroyed almost all of the grapevines in Europe, including France. However, because American vines were resistant to this bug, European vines were grafted onto American root systems. This created hybrid grapes that produced a greater variety of wines. To this day, most grapes in the world are still grown this way.
Learning the basics of wine has never been easier. There are many websites dedicated to it. I have many friends in the wine business, especially here in France. So I invited two of them over to my home to give me the basics of wine for this blog. We had a marvelous evening tasting and evaluating four different types of wine and I recommend you try this at home. You don't have to have an expert with you, as I am providing you some of the tools right here to evaluate wine.
There are three steps to wine tasting – the look, the smell and the taste.
Look at the wine
Clarity is the quality of being clear and indicates the character and condition of the wine.
Colour (intensity and hue) can help determine the variety and/or age of the wine. White wine goes from light green/yellow to gold and red wine goes from purple to red to 'tawny' brown as it ages.
Swirling the wine in the glass gently and then stopping, will reveal the 'legs' left on the inside side of the glass. These legs or lines going down will reveal how much alcohol and sugar is present in the wine.

Smell the wine
Inhale and try and identify as many flavour compounds as possible.
Look for identifiers such as freshness, intensity of aroma and sensation. Most wines have a vast array of smells, which change and develop with time in the glass. You can see from the chart wheel just some of the varieties of aromas.
Taste the wine
The progression of flavour from when the wine enters your mouth to after you swallow is an indicator of the quality of the wine. A long aftertaste, or 'finish' as it is know in the trade, is generally a positive indication of quality.
After looking, smelling and tasting, make an overall assessment of the wine and write it down.
Here is a colour, taste and scent wheel to help with your descriptions: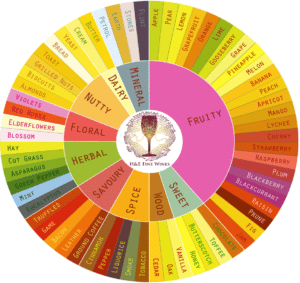 Some good reminders …
Wine body breaks down into three categories: light body, medium body and full body, and a good way to think about the difference between them is the way skim milk, whole milk and cream feel in your mouth. It can be light and refreshing or darker and weighty.
Grapes grown in cold climate struggle with too much acidity and too low alcohol. Warm climate difficulties are too much alcohol/fruit, and low acidity. This is one of the reasons that grapes are often blended in order to make a balanced wine.
When pairing wine with food the most important aspects of a wine for food matching is not colour but body or weight (which corresponds with alcoholic strength).
The second important aspects are the tannins for reds and sweetness/dryness for whites. Tannins are naturally occurring compounds that exist inside grape skins, seeds and stems. You experience the effect of tannins any time you drink a wine that creates a drying sensation in your mouth. Depending on how dry your mouth feels, you can determine whether a wine is high or low in tannins.
Try and match the body with the strongest ingredient in the food. Serve delicate flavoured foods like white fish or chicken with lighter wines and stronger more robust foods like mushroom lasagna or steak and osso buco with full-bodied wines.
Remember reds and whites don't always have to be served with the same old traditional meals. Many times a white can take the place of a red or vice versa, it just depends on the body.
For our tasting we decided to try two whites and two reds. They were as follows:
Lamblin & Fils Chablis – Blanc 2016 (Chardonnay). It is a cold climate white relatively clear, pale and clean looking. Bright acidity with tastes of flint and stones as well as green apple and lemon. Great to eat with salty foods like Moroccan chicken with lemon and olives or seafood dishes, oysters and shellfish.
Le Jade – IGP Pays d'Oc Blanc 2017 (Chardonnay). It is a warm climate white darker in colour, more golden than the Chablis. Less acidity and has a richer taste, as fuller bodied. It was aged in oak barrels, so it has oak and vanilla notes with a hint of tropical fruit like pineapple and banana. It would be great with fish, chicken and with cream sauces like Carbonara and Alfredo
Le Repos des Grâces – Beaujolais Rouge 2016 (Gamay). It comes from a cool climate and was translucent with vibrant purple hues. It has bright acidity but with fewer legs (amount of alcohol) and savory hints of leather aromas. It would be excellent to eat with mushroom risotto or lasagne, quail (small birds) or even a tomato based pasta.
Mas Olivier, S&G – Faugères Rouge 2016 (Syrah, Grenache). It's a warm climate wine whose colour was darker like cherry red with lower acidity and an intense fuller body (more fruity). It has black fruit on the attack coupled with tastes of oak and leather and just a little hint of stone. Very drinkable and would be great with baked dishes, stews or beef with roasted vegetables.
Ideally you should have four or five people at a tasting, and then follow it with a dinner that is easy to make. I ended up serving a baked white fish in a lemon butter sauce along with roasted cauliflower, broccoli and carrots and pine nuts and a simple salad to start. No dessert.
I also want to give a big shout out to my two dear friends, Sarah Everden, Export Manager for DAD South of France Wines and Geoffrey Cohen sales manager from Domaine Montrose. They both recommended trying lesser-known regions that sell excellent wines including Côtes du Rhône and Languedoc Roussillon in France (where I live) as well as wines from countries like Austria, Chile, Portugal and Spain. If you are interested in expanding your known universe of grapes, perhaps try lesser known grapes like Carménère, Carignan, Primitivo, Petite Sirah, Gruner Veltliner, and Chenin Blanc.
If you take the time to understand the wine you drink and find out where a wine's unique character comes from, it makes drinking even more pleasurable. We had a great time doing this tasting, and I hope you hold a tasting of your own. If you have any questions, drop me a line and I will happily help. Wine can be a wonderful addition to any meal or even to sip on a lazy Sunday afternoon at the beach but of course should always be consumed with moderation.
Vivre mon vin

For more information about DAD South of France Wines
For more information about Domaine Montrose