A Winter Wedding in the Old Port of Montréal
I recently had the pleasure of working with two young and wonderful clients from my adopted home of Montreal. These clients were based in Australia and so I began working with them via video for a year leading up to the wedding. We all know how stressful planning an event can be, just think back to those stressed out nights trying to plan the perfect High School Prom, or a wedding in the family. Having little or no idea about what to expect many people try their best to figure out how to organize the event properly (from production timelines for the event to booking a venue in time). Realizing the number of things you're leaving out while trying to be everywhere at the same time. Then, that horrifying moment when you realize you've exceeded your budget limit.
The good news is, planning that event doesn't have to be so stressful. Not when there are experts who actually love helping with important details, and make that great idea you have about the event come to reality. Whether in person or via video, I like to draw from my clients their ideas & desires and then transform them into a polished reality, with some added upgrades. These clients wanted a winter wedding with a chalet feel but with urban accessibility. It took a few weeks of research but, I was able to find several places that would be good location for their wedding. After crunching the numbers with all of them, we chose a restaurant in the Vieux Port de Montréal as it had the charm and oomph factor, and also fit the budget. We realized we needed a place with infrastructure instead of spaces which are blank slates, as such old charm cannot truly be rebuild. The Old Port of Montreal or "Le Vieux Port" has many wonderful spaces available, many with a romantic, old-world charm. A lot of these buildings were former merchant homes and businesses and they just ooze history. Its accessible by Metro, taxi, Uber or on foot and is located in the centre of the city, along the shores of the Saint Lawrence river.
One of my favourites is of course the Vieux Port Steakhouse de Montréal. This Montreal institution has been around for forty year and is located east on rue Saint Paul. The restaurant in divided into three sections, the first floor and part of the second floor are modern designs within the 17th century structure. Upstairs, a more chalet-feel with a more intimate dining space and large event spaces for weddings and celebrations. There is even a Loft Hotel connection, so we were able to rent rooms in the same building for the family. The space looks great already for a milestone event and you don't have to decorate or change it much. Unlike renting a hall, where you need to bring everything including sometimes a kitchen, at a restaurant, you won't need to get many rentals, as the restaurant will already have most of it, such as tables, chairs, linens, dishes, glasses and the bar set up. Plus they have the established staff and kitchen ready to go. The other great part about the restaurant is that you are assured of a great meal, served by attentive staff for good price, making it the perfect venue for mounting a great event. If you want to save money, hiring a venue that has inhouse catering is the more affordable way to go. I can honestly say that I have attended and produced weddings at Vieux Port Steakhouse Montreal and every time, the wedding was a huge success. A special shout out to the Maître d', Mylene Renaud, who I worked closely with over the year and she delivered on everything we wanted.
Hiring an event planner can take the stress out of any upcoming event, whether it's a one-time event or an ongoing series of events. It is also great way to help save money and ensure the finest details are well taken care of. Contrary to popular belief, hiring a professional event planner will save you large amounts of money in proportion to the size of your event. We have a network of suppliers and vendors that I deal with on a regular basis and in some cases have worked with them for years. We also have great negotiation skills, that is, they are able to negotiate a mutually beneficial contract. You'll hear about my vendor list for this wedding later.
We know that feeling when after going through a lot of stress to plan an event, you don't even get to enjoy it because you're too busy moving all over the place, ensuring everything is in order and the event runs smoothly. Well, it doesn't have to be that way. When you hire an event planner, you can relax and enjoy the event like every other guest, knowing fully well that everything is being taken care of. This way, you can have beautiful memories of your events, rather than memories of stress, because you were too busy running around. I always work with an assistant so everything is covered from every corner.
I've organized reunion dinners and many parties in various restaurant venues in Old Montreal, from my days as the Director of Events at McGill University's Faculty of Medicine, as well as a private event planner, and I can tell you the ideal size for a restaurant wedding or party is between 50 and 70, with a ceiling cap of 100. This makes things intimate and allows you to really connect with everyone there. If you've got a smallish guest list, or if you're looking for an excuse to trim the invites, this could be the solution for you. The food in a restaurant is so much easier to manage for a wedding. We were able to offer our guests a choice between four different meals in a three-course service.
The ceremony took place in the St. Jean Room, which then leads into the Champlain Room via two doors behind the fireplace, which we used as the dining room. I installed pipe and drape along with a simple lighting system and two large pillars of cascading flowers for the ceremony. The aisle was marked with white lanterns and rose petals and it created a simple and elegant place to make your vows.
For the tables, we went with my favourites style of dining, banquet tables. It has a grand feeling, yet family spirit that just brings people together and sets the stage for great vibes. Placing the dancefloor between two long tables comprised of family on one side and friends on the other, with the guest of honour, in this case the bride and groom changing tables with every course served. Always seat the newlyweds facing into the room, never with their backs turned to guests.
I know that I reduce stress, because I can see the relief in my clients faces. I help them to relax and actually enjoy the day instead of worrying about "putting out fires", fixing mistakes or dealing with their dreaded cousin who might drink to much or that pushy aunt who always tries and take things over. No matter the amount of planning, there's always a chance that something could go wrong. Professionals can handle the pressure. They are skilled at thinking on their feet and can execute 'plan B' in time. A planner's quick thinking can help turn a potential disaster into a positive experience.
For the décor, we designed long table runners in a white crêpe fabric, which draped beautifully on the ends of the tables. I installed Italian Ruska aka Poets Laurel atop of the fabric, with a lighting system intertwined. Many people know these leaves that normally adorn for the winners of the Olympics of Ancient Greece and in our modern times, crowns for flower girls. Small burgundy, white and green centrepieces floated on top of the greenery and lights. The Bride had individual keepsake sandalwood nameplates made for every guest, which sat at their seat making their place at the table. And close friends of the Bride and Groom took home the beautiful and very portable centrepieces.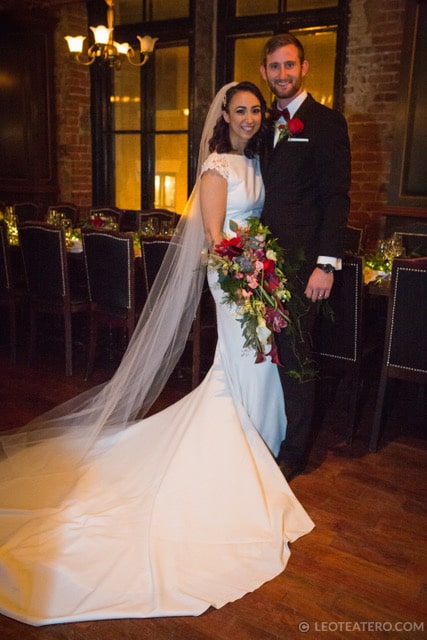 For the clothing all the groomsmen work black suits, which they will wear in the future and the bridal party also wore elegant long black gowns, again something that will be worn again. My pet peeve as a wedding planner is to open a closet and see a collection of unwearable bridal dresses. One should think sustainability when choosing the clothing for a wedding and buy something that is versatile.
Proper organization is a key factor in ensuring the success of any event. A good event planner also saves you time. As professionals, we already know trustworthy suppliers and vendors and how much things should cost. I cover the tiniest details of your event, even the ones you may overlook. They give you that 'perfect' event that leaves a lasting impression in the minds of your guests. Another point I wish to make about weddings is to choose carefully your vendors. You need to see their work and its depth in digital form, like a website or youtube videos. You also need to meet them and connect with them on a professional basis, so you can all work together well. Putting together a great team, makes the process more enjoyable and much easier to insure great results.
The dream team I put together for this wedding started with a local young baker and entrepreneur, Patisserie Lawrence V's talents and price point set him apart from the rest of the baking crowd. He made a beautiful two-tiered wedding cake with my greenery. The cake was used for "cutting the cake" photos and then served 30 people. I had also ordered slab cakes to be served directly from the kitchen, so as soon as they cut the cake, we served it within a minute or two to the entire rom. Another tidbit for guest giving is to give pieces of the wedding cake. Edible or drinkable presents or take-aways for your guests is the way to go. It's old school and a wonderful family touch for your guests. Order three cakes, one for presentation and the cake cutting and two more to serve to the guests and to box as gifts. We chose two flavours and served red velvet and lemon poppy seed. Serve half to your guest and box the rest with ribbons for them to take home either for a late-night treat or a next day snack. Enjoy, it's a hit every time.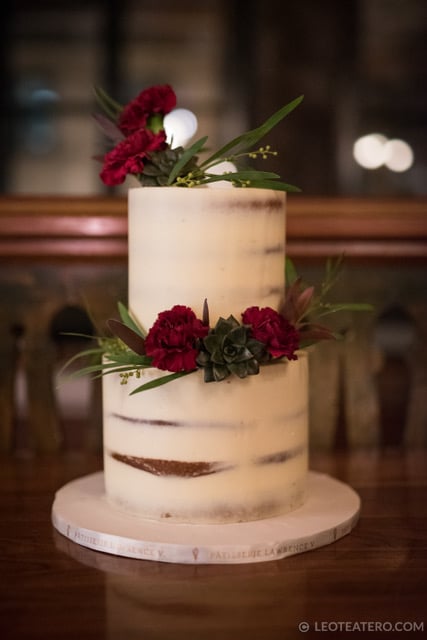 Another young and successful vendor we hired was Mely Carillo, from Montreal. Her portable makeup and hair services were affordable, she was efficient and the results were perfect. Mely is available via Facebook or Youtube.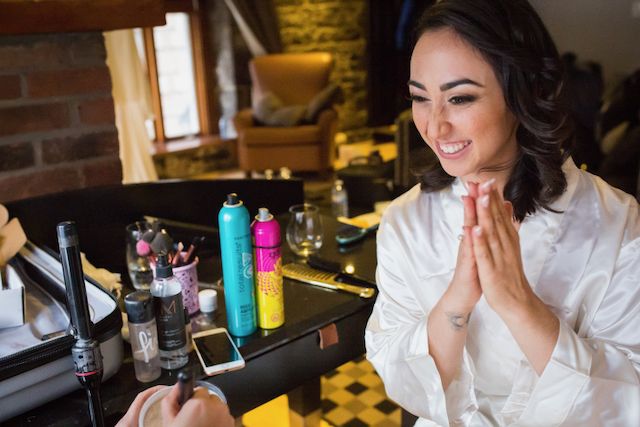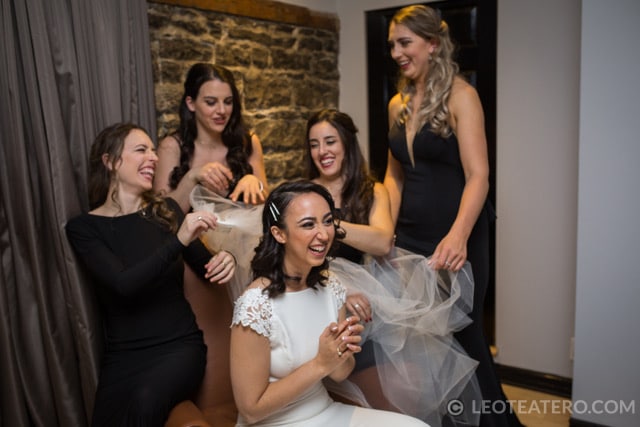 One of the hottest Photographers in Montreal is Christina Esteban Photography. For years, I have worked with her group of photographers, but this time had the pleasure of working directly with her and it was the perfect experience. She and her colleague Christina (also), helped capture the precious moments that you want to have forever. She also installed a great photo booth that produced printed and digital photos sent immediately to your mobile device. Easy to talk to and fun to work with, she gets my business every time and my clients are happy. All of the photos in this blog are courtesy of her talented services. You can be assured that you will get the best product in the end because it goes through Christina's hands and vision.
This was my first time using the services of Rob Malo Films, another young and local videographer. Rob is another great young professional who captured just the right spirit without ever once getting in the way. In all we had four people taking photos and videos for the evening, and while that might seem like a lot to some, it is the perfect number to ensure you have everything you want on video and in print for your important day. Too many times I have heard the horror stories of people making the mistake of trying to save money by having their friend or family member take these photos. They usually end up with only a few photos or worse none at end and the end to a friendship. If you want good solid digital memories, hire the professionals and you won't be disappointed.
I work almost exclusively with Fleuriste Notre Dame de Grace when I produce anything in Montreal. They have been a part of my events team for almost twenty years and I couldn't imagine doing anything in Montreal with their help. Maria and Isabel always know exactly what to do in terms of beauty, price point and availability. You'll never go wrong using their services.
If you are struggling on the cost of having a wedding, a great trick is to pick 3 items that mean the most to you when it comes to your wedding. For many, it means hiring someone to do the work on the day of the wedding, good food and drink, and a great space to have the event and ceremony. For others flowers could have a huge role or music. The key is to pick three. It makes it easier to create a budget and not feel like you are scrimping in other areas.
If you liked this blog, you should also check out some of the rest in my series on wedding spaces, like: Your Fairytale wedding a Château de Flaugergues and also Domaine de Verchant, A Languedocien Jewel. I have another blog coming up about a summer wedding I produced in a beautiful garden in the South of France, so stay tuned.
Vivre ma France,