How to Choose the Right Lingerie for your Wedding Day
It goes without saying that on your wedding day when it comes to lingerie, your everyday t-shirt and bra won't do! Whether you're draped in tulle or seductively slipping into silk, the right undergarments lay the foundation for a flawless outfit reveal.
Since your wedding day is made up of multiple activities, sometimes taking place at various locations, it comes as no surprise that there are a few pinnacle moments on the day for which you will need to consider what lingerie works best for the look you want to create.
The first is when you will be getting ready with your bridesmaids. At this point, you're likely to be photographed in hair and makeup whilst you're getting dressed. It's important to consider something you feel comfortable wearing in front of your bridal party and any family members who will be getting ready with you. Since the first wardrobe change will have you getting into your dress or first bridal outfit, you will want to think of something that is easy to transition out of without ruining hair or makeup. Some glamorous pajamas with buttons, or even a lux robe, make for a fabulous first outfit that is both comfortable without being too revealing. You don't want to have to raise this outfit over your head, if you get your hair and make-up done in it. So, robes and button pjs are the easiest. You can even get a set of matching pajamas or robes for your bridal party as a thank you gift to add to the photo shoot fun.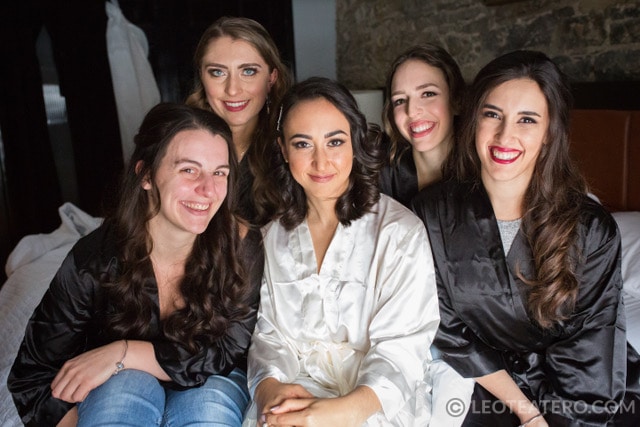 Moving on to the main event, you will want to carefully consider the undergarments that form the foundation over which you will wear your dress or chosen bridal outfit. This is not a one size fits all solution and will depend on both the cut and fabric of your dress or ensemble.
There is one universal rule for any brides wearing white on the day of their wedding, and that's to wear nude coloured undergarments! Many white fabrics tend to have some layer of transparency compared to those of darker colours and will not be as forgiving when it comes to shielding what you're wearing underneath. Contrary to popular belief, white bras and underwear do not magically disappear underneath white outfits! Save yourself the hassle and invest in a good quality set of nude coloured underwear or shape wear. Thankfully, many manufacturers have wised up to include a much more inclusive range of skin coloured underwear, so that any bride of any colour, can find a set that beautifully matches her unique complexion.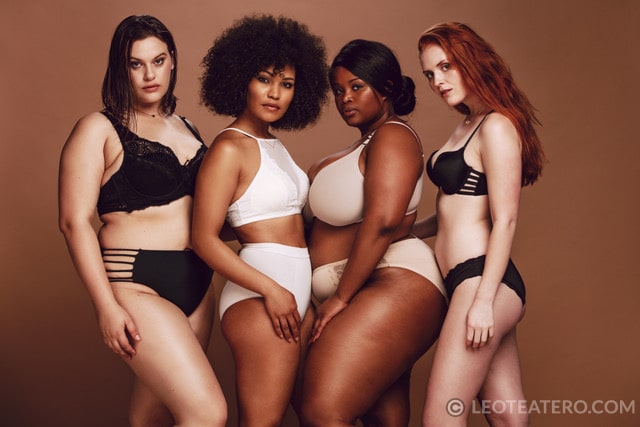 If your dress is form-fitting and closely cut to the body, you might want to consider a pair of shape wear or Spanx. Again, contrary to popular belief, Spanx isn't about squeezing your perfectly designed body into the next dress size down. Rather, Spanx will eliminate any awkward lines or lumps and bumps from poorly fit elastic waistbands and ill-fitting underwear, thus transforming your gorgeous body into a smooth canvas on which to wear your goddess-like gown.
With all the running around between getting ready in the bridal suite to hitting the dance floor at the end of the night, you'll want to carefully consider some supportive options to keep your girls in check. Once again there will be many factors to consider: the cut of your neckline and back of your outfit, what material your dress is made from, what your bra size is and how comfortable you are going bra-less or having minimal support. Luckily, there are many solutions out there to fit your individual needs. From nipple covers and stick-on bras for ladies looking to go bra-less or needing only minimal coverage, to corsets for dresses that really cinch in the waist and add some VA-VA voom. A strapless bra may seem like a no-brainier for most but consider a low-back option that will not peek out from the back of your dress. For those daring enough to show off their decolletage, a plunge bra might be just the trick for low-cut options. However, if the unique shape and cut of your dress leave few options for an off-the-rack purchase, consider making your own creation with some booby tape. It's the best-kept secret from all your favourite actresses walking the red carpet, and there are plenty of great tutorials on how to recreate the best supportive option for your ensemble. Just be sure to have a practice run at home before the wedding and be sure to remember an oil-based remover on hand to make removal pain-free.
As a final word of advice, I would advise before any bra purchases are made to first go get a professional fitting. This is especially the case if you insist on putting yourself on a regime or upping your sessions at the gym in the lead-up to the big day. Remember that any changes in weight loss or weight gain will often affect your bra size as well, and with a staggering 81% of women who are sporting the wrong bra size already, it seems we could all use a little help in getting something off our chest – the wrong sized bra!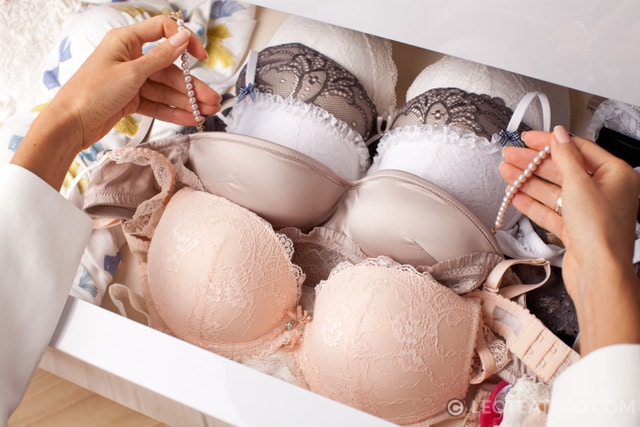 One item not to forget is the garter, which should not be confused with a garter belt. If you're keeping up with the garter toss tradition at your reception, you'll want to get one that fits comfortably just above your knee to wear during your reception. Back in the day, garters were designed to keep up a lady's stockings. Luckily with the development of elastic, garters no longer serve the same function and instead remain a part of this cheeky tradition. You'll find that garters still come in a set of two -one often being more ornate than the other. The bride can take her pick as to which one to wear for the garter toss, while wearing the other a bit higher as her own keepsake. Whichever leg you decide to wear your garter is entirely your preference, but do be sure to let your groom know ahead of time.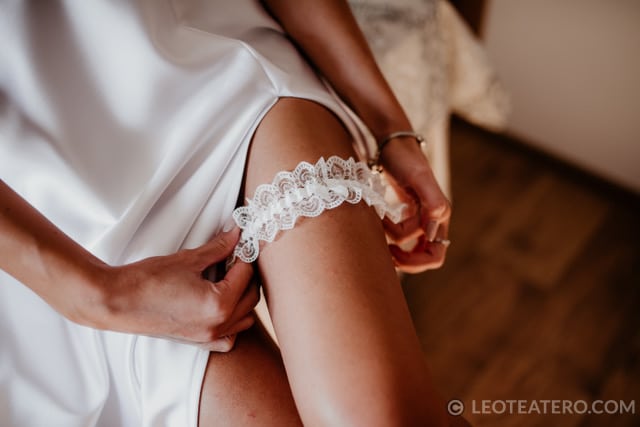 A final word on wedding night lingerie. If you insist on a saucy final reveal to your newlywed beloved on the night of your wedding, pack it in your overnight bag or alternately, save it for your honeymoon! What is most important here is that whatever you choose to wear and when you wear it, you pick something that makes you feel incredible and confident, instead of what you might perceive someone else thinks is sexy or attractive. And remember confidence is like joy, it comes from within.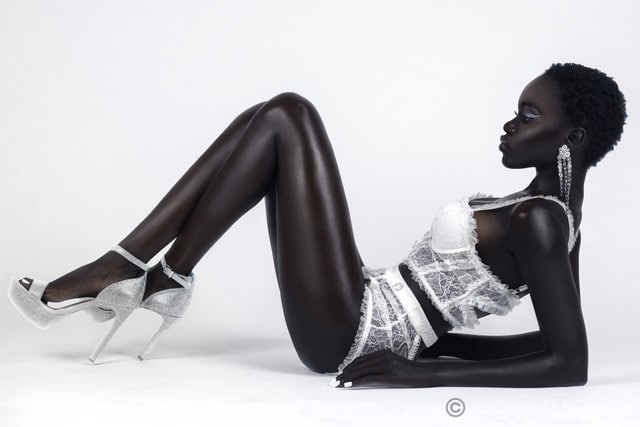 Your wedding day is all about bringing out the best that already exists in you, so why not continue this mantra throughout the rest of your days? You are already perfect – just as you are, and a few carefully selected ensembles and accessories to help boost your confidence, can go a long way!
Vivre ma France,