My Top Tips on How to Choose Your Perfect Wedding Dress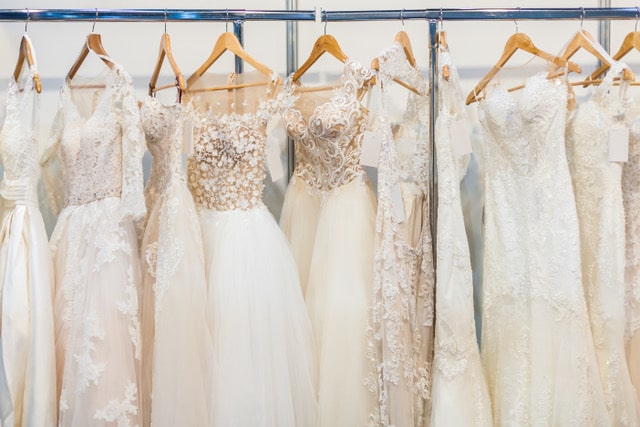 After the moment you become engaged, choosing your perfect wedding dress often ranks pretty high up there in a bride's most memorable moments en route to their wedding day. But with so many designers, styles and price points, it's easy to get overwhelmed by all the choices available. "Do I want tulle or taffeta"? Are you leaning towards more mermaid or mini?
Because I want all my brides to have the best bridal experience possible, I've pulled together a few tips for finding the perfect dress, setting up your bridal appointments for success! And while I can't promise that you'll find THE dress at your first appointment, I can guarantee that with my tips below, you're one step ahead of the game.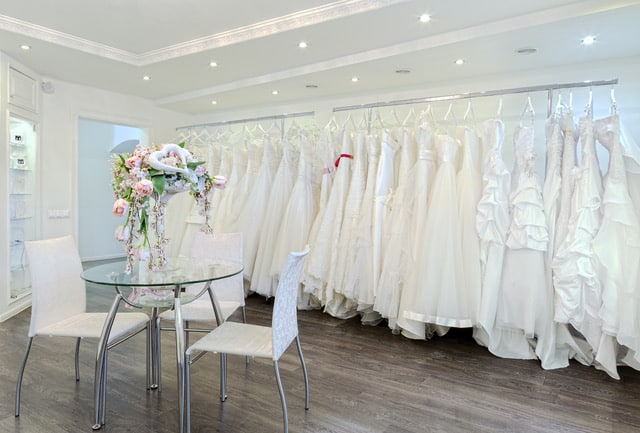 Budget
My first tip is probably my least glamorous: you need to set an agreed-upon budget for your wedding dress, and more importantly -you need to stick to it. A healthy budget for your dress is 5% to 7% of your entire wedding budget. So for a $25,000 wedding you could spend between $1250 to $1500. Many bridal parties inevitably end up with one unknowing bridesmaid pulling a dress way over budget and asking the bride to try it on "for fun". Let me tell you, it's not worth even entertaining this idea. Make the most of your time by trying on dresses only within your budget. No use in getting hung up on something not within our means – save the heartaches for your ex-boyfriends!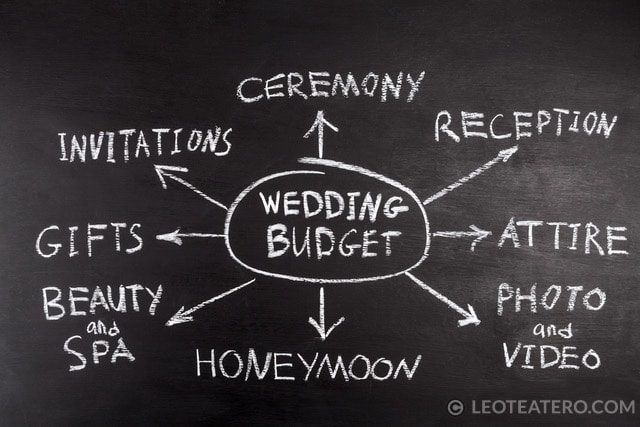 Shop Early
Wedding dresses typically have a long lead up time from when you first place your order until your dress arrives in the store. For some designers, this duration can be in the ballpark of 4 months -but this will vary across brands. Let's not forget about the time it takes for alterations! In my opinion, it's best to mitigate any stress by starting wedding dress shopping 9-12 months in advance. Of course, many stockists can expedite the process, but at an additional cost. My advice? Save your money for the cocktail reception and get shopping early.
Do Your Research
Let's face it, some of us are born fashionistas who have the confidence to rock any look, while some of us need a bit of guidance in putting on the perfect outfit. The best starting point is to be aware of your body type and then be conscious of how different dress silhouettes may draw attention to various parts of your body. For example, ball gowns tend to be quite flattering on most but might draw some extra attention to the specific curves of apple-shaped ladies. That's not to say apple shapes should stay away from ball gowns altogether, but if you're more prone to disguising your curves over showing them off, you may not feel comfortable in this silhouette. Below are a few great outlines of wedding dress styles coupled with body types.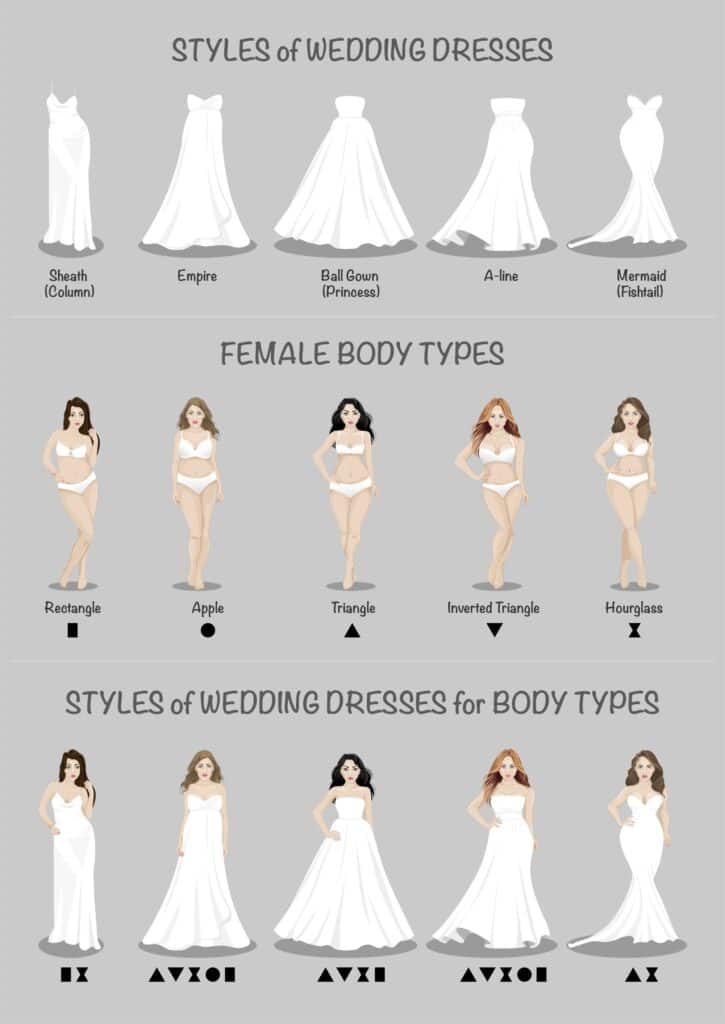 Plan Your Appointments
Make an occasion of trying on dresses and book your appointments on the same day to keep your options fresh in your mind. Too long in between, and it will be difficult to remember what you tried on and where. Get the girl squad involved and make a day of it. Just remember, like any athlete you should pace yourself throughout the day. Be conscious to bring a small snack and bottle of water in case appointment times overrun, fuel up on a healthy lunch and be careful not to overindulge on the champagne until after you have bought your dress.
Choose Your Bride Tribe Wisely
When thinking of who to invite to your dress shopping appointments, consider which friends and family are your biggest cheerleaders. Remember that this is your moment to shine, so anyone who cannot be happy for you, has weird hangups about your fiance, or is in an inexplicable competition with you should be disqualified from joining.
Do not feel you need to keep it amongst the girls either. If you have a close gay male friend whose opinion you value, they could make a welcome addition to the bride tribe.
It goes without saying -if you have a family member contributing towards the cost of your dress, invite them to the appointment. You are not obliged to extend an invite to your future MIL, but if you two have a great relationship, it's a nice gesture to invite her along.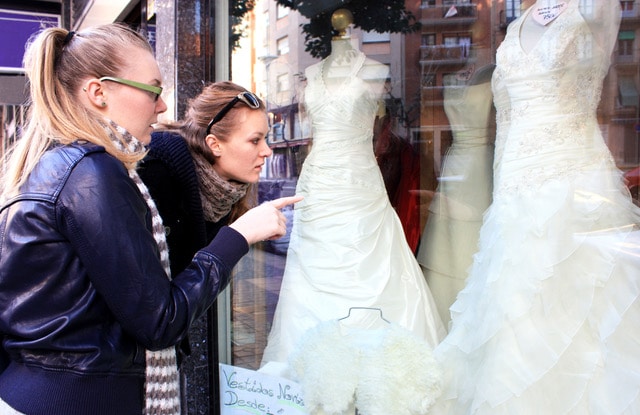 Come prepared for a dress rehearsal
Hair and makeup done up. Nude underwear and a strapless or convertible bra. The heels that you'll be wearing at the wedding, or ones similar in height. Bring your A-game when getting ready for your appointments. A full-on blowout isn't necessary, but it can help you feel pulled together and up your confidence. It doesn't matter how fabulous a dress is -ill-fitting undergarments that show through a white lace dress will never make anyone feel glamorous.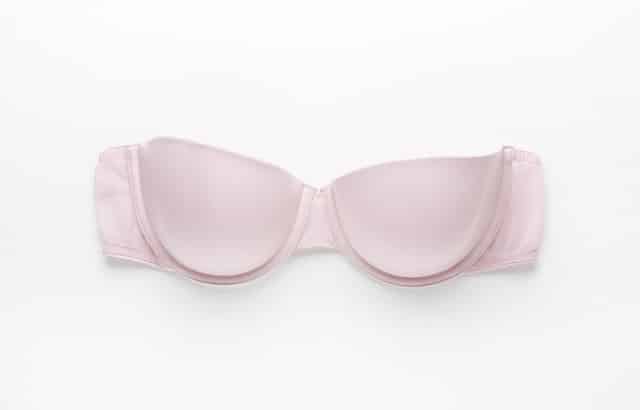 Don't be a label Snob
I'm talking about sizing here. It's a little known fact that bridal dress sizing runs differently from your usual sizes on the high street. When you're trying on dresses, you may be shocked to find your dress size will be larger than the size of the clothes at home in your closet. Take a deep breath and remember this is very normal -it doesn't mean anything! At the end of the day, your dress will be precisely altered to fit YOUR perfect body -as it is today! While you're twirling around on the dance floor in the arms of your beloved new husband(!), nobody is going to be any wiser as to what the label inside reads. But you, my darling, are always going to be a flawless 10 irrespective of what that label reads.
Trust the Experts
Contrary to my advice about coming prepared with research on what looks best, this piece of advice is about giving a little room to let it go. Your stylist will have lots of experience dressing different bodies and have infinite knowledge about their existing stock. They might see something you may not or have a good idea about another option that might fit in a more flattering way. Trust them enough to try on a new dress they've pulled for you -you might surprise yourself! But if you try something on and your gut says "no", you absolutely must honour your instincts.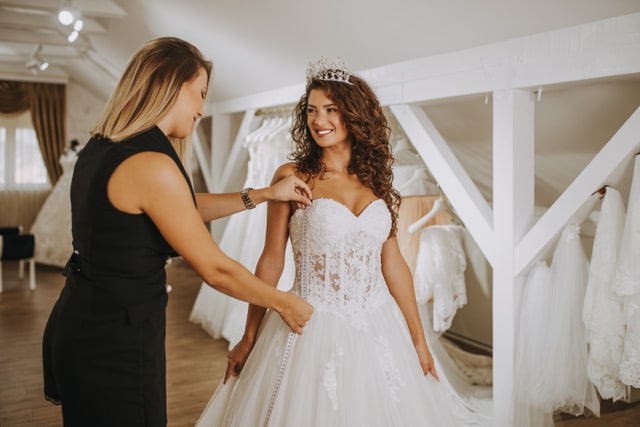 Negotiate for the Package Deal
The veil, a belt, gloves. Bridal accessories can help transform a beautiful dress into an all out look. My advice is to see if you can negotiate for these pieces to be included in a packaged deal with your dress. It never hurts to ask politely, and salons often offer discounts when you buy everything on the spot.
Check your Timings and Read the Fine Print.
Make sure that your dress' delivery dates match up and note down any dates for your alteration appointments. Are there any additional fees that might be incurred for any reason? Before you sign ANYTHING, make sure you know where you stand on deadlines to avoid any nasty surprises later on.
Now that you understand how to approach an appointment, it's time to grab your bride tribe, get out there and get shopping! Next stop, bridesmaids dresses -stay tuned for our blog on how to pick beautiful dresses for your besties.
Vivre ma France,

PS – If you liked this blog check out my Wedding Dress Trends Blog.